The All Pakistan Private Schools Federation (APSF) has announced public holidays in all educational institutions across the country on the occasion of Eid-ul-Fitr.According to the notification issued by the APSF on Thursday, all private schools will observe the four-day Eid-ul-Fitr holidays from April 21 to 24.In pursuance of the decision of APSF, all the private schools under the administrative control of APPSF shall remain closed from April 21 to April 24," the notification read.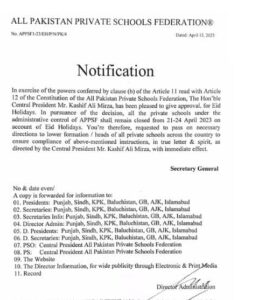 Last week, it was reported that proposals for four to five holidays would be brought to the Prime Minister, who will make the final decision.It was reported that if Eid falls on a Friday, vacations would be held from April 20 to 23 while if it is observed on Saturday, the holidays might be extended from April 20 to 24.
Yesterday, the federal government announced the disbursement of salaries, allowances, and pensions in advance to all serving and retired government servants on account of Eid.